All website visitors aren't created equal.
In fact, pushing away unqualified leads is just as important as nudging the right leads through your sales funnel. And as a SaaS company, you have extra lifecycle phases most traditional companies don't.
Optimizing (or creating) content for these "special" phases is one of the things that separates fast-growth SaaS companies from the ones that fizzle out over time.
While it's important to continuously bring in new leads, customers at every phase need love, too. Which is where many SaaS marketers miss the mark. You can have thousands of qualified leads but if you can't keep them around, what's the point?
For affordable SEO or more helpful information and advice with online marketing or general online tips please get in touch.
If you're wondering what these extra SaaS customer lifecycle phases are and the types of content you should have for each one, you're in the right place. Keep reading to learn:
How the SaaS customer lifecycle differs from a traditional sales funnel
Characteristics of the visitors/leads/customers at every phase
The types of content you need to optimize or create for each one
What Does a SaaS Customer Lifecycle Look Like?
The SaaS customer lifecycle looks slightly different from funnels for other types of products. And it's not just because SaaS users (AKA other business owners) are professionals at pulling all-nighters.
It's actually because SaaS products are "purchased" more than once. Any time someone renews their subscription could be considered a new purchase, and there's different types of customers.
Your customers have hundreds of other options to choose from. So onboarding them, turning them into regular users, and keeping them on board are all important parts of the customer lifecycle that may not exist in a traditional customer funnel.
But the SaaS customer lifecycle can still be broken down into the three funnel phases you've seen in traditional sales funnels — acquisition, engagement, and retention.
It's the steps within those phases that differ.
With each step comes an opportunity to optimize existing content and create new content to help nurture your leads and customers regardless of the stage they're in.
As I mentioned earlier, you're constantly battling with other software to acquire new customers, consistently meet your current customers' needs, and keep them around for the long-haul.
So, optimizing content for every stage is an essential (yet often overlooked) part of effective content marketing. Let's dive into these different stages and the types of content you should have (or create) for each one.
The Acquisition Phase
This phase is about how you attract and acquire new readers. These people aren't yet customers but are becoming more interested in your SaaS solution as they move from one step to the next.
1. Awareness
This is where a lot of new readers enter your funnel. They realize they have a problem but they may not know how to solve it. So, they turn to several platforms to solves it. Be it via social media, queires through search engines, or even by asking their friends.
Remember, awareness stage is the biggest part of the sales funnel, which means there's a lot of people you can target.And this means, you'll have to amp up your content promotion game.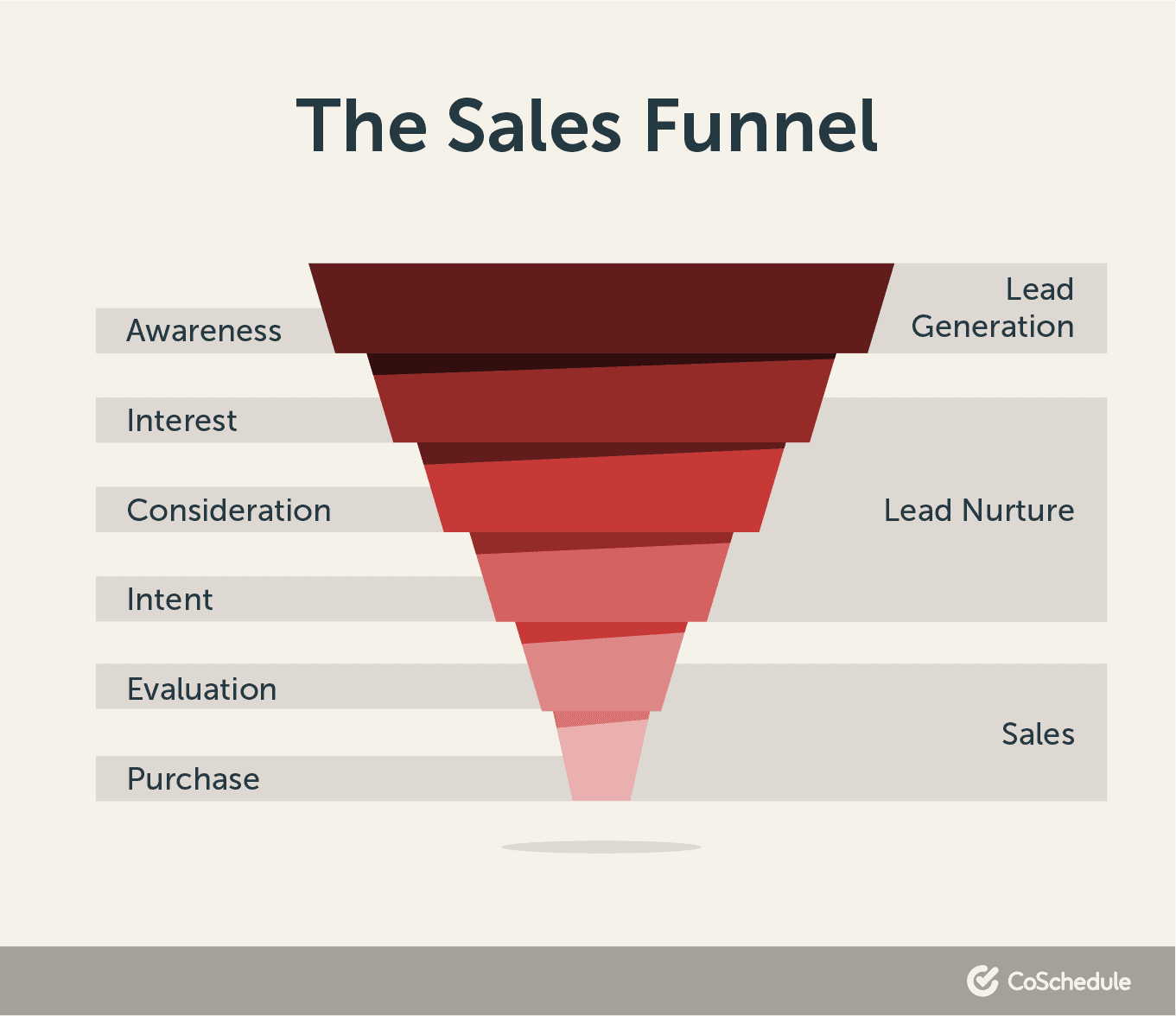 And possibly leveaging several marketing channels to reach them:
Free blog articles that provide answers to their questions
Valuable lead magnets so you get them on your mailing list
Consistently publishing content on social media platforms around topics your audience actually cares about.
Pre-recorded or live webinars that help solve a specific problem
With a multitude of lead generation tools, finding new leads is easier than ever!
The idea is that they'll find you and your brand while doing research to solve the problem they're facing. If you can help them solve one of their problems with content they can get for free, they'll likely leave this stage and move on to consideration.
For instance, take a look at the Copy Weekly podcast.

The podcast creates high quality marketing podcasts by interviewing expert marketers so it naturally attaracts ideal personas for agencies. And guess what?The podcast is runned by a content agency GetCodeless.
Similarly, you can make podcasts, webinars, etc around your ideal persona's interests and you'll naturally generate sales (aka top-funnel).
Don't forget about advertising as an effective means of customer awareness and acquisition, whether you're promoting your own product or affiliate offers. Since you have a financial investment in this type of exposure, it's vital to use tools such as Voluum to optimize and automate your ad plan to enhance both the numbers of customers you attract and your cost of helping them find you.
2. Consideration
Readers in this stage have signed up for one of your lead magnets or understand that your SaaS solution is a viable option for solving their problems. They're not ready to buy from you but they are considering you as an option.
Furthermore, email marketing is 40x more effective for customer acquisition than social media. So, it's important to focus on optimizing (or creating) valuable trust funnels for new leads in this stage. Fortunately, there's several email builders you can use for the same.
You may also want to consider:
Solution-specific tutorials that show how to solve common problems
Additional freebies they can start using right away
Segmenting your leads for future campaigns and content
3. Evaluation
Now, your readers are narrowing down their choices. Your SaaS solution is on their list as one of the top considerations. But they may not be 100% sold on your specific tool. So, now it's time to tip them in your favor.
This is where audience segmentation comes in handy. You can use these segments to create buyer-persona-based landing pages and craft hyper-targeted emails using specific pain points you can help them overcome.
So, you might also want to offer:
1-1 live demo screen sharing so they can see your tool in action
A free trial or extend their current free trial so they can dive deeper
Personalized training to help them solve specific problems they have
Discount offers, coupon codes, or vouchers to save money
The Engagement Phase
This phase is about nurturing your existing customers. Although they chose to purchase your SaaS solution, that doesn't mean they're going to stick around or consider you a long-term solution.
So, it's important to continue to provide valuable information and educational content as they move through each step to keep them moving forward through the funnel.
Here's a few pointers to get the most out of the engagement phase:
1. Make sure your offering follows the best user practices in terms of customer experence. Consider using heat map tools to use real user data to optimize UX.
2. Set key engagement metrics and track them accordingly. For instance, use a link tracker like Rebrandly Link Shortener to track enagement and performance of specific pages
3. Have the right data-collection systems to study engagement and collect use data. For instance, use email softwares to colleage precious data from email campaigns.
4. Optimize your content using the right content tools to get the most of your content.
4. Purchase
This is often the stage where a lot of marketers stop. They did their job moving someone through the acquisition process, so they may think they're finished.
40% to 60% of users will only use your product once. They'll let their subscription expire and move on to something else. So, your job is far from over.
Furthermore, your customers spent a lot of time making this decision and now it's your turn to show them they made the right choice, give them what they need, and then some. So, consider optimizing or creating:
A welcome party via email, video chat, or phone
An onboarding process to familiarize them with your solution
Proactive customer support and success management
New-customer surveys so they can use their voice and be a part of the process
To learn more about optimizing processes, I recommend checking out Nextiva's guide to different types of crm.
5. Onboarding
That onboarding process I mentioned before? This is it. And it extends beyond the "honeymoon" period of excitement new customers feel after buying something.
This is your chance to teach them everything they need to know to be successful with your SaaS solution. From recorded training videos to professional training documentation, it's important new customers don't feel overwhelmed.
So in addition to easily accessible training, consider offering:
Gather your team to brainstorm and collaborate real-time using Canva's free and online whiteboard tool and fully customizable templates depending on what you need.
Individual live training sessions with customer-specific tasks and goals in mind
A drip onboarding process that gives them bits of valuable training over time
Helpful content from whiteboard tutorials for technical audience, training videos for visual learners, and even learning courses to help them overcome common roadblocks
Quick access to customer support
6. Regular User
This phase occurs when new customers become regular users. They no longer need ongoing training and support, but that doesn't mean you can forget about them. You're now a part of their everyday life, which is a huge success.
But, your job isn't done. It's important to understand how customers use your product and what changes or forms of customer support you can implement to make their lives easier. This is the difference between okay SaaS tools and great ones.
This year (2020), customer service is expected to overtake price and product as the biggest differentiator between competing companies. So, you may also want to consider:
Continuous customer support via live chat, email, phone or even VoIP to amp your customer service.
Incorporating a knowledge base so users can overcome obstacles on their own
Implementing a SaaS help desk software
Regular customer satisfaction and support surveys
Giving customers an opportunity to get involved with future updates
Implementing SaaS help desk software and hosting your support ticket system in the cloud (like Jitbit, for example).
The Retention Phase
Customers transition to this phase when you know they consider your SaaS tool a long-term solution. They're done with onboarding and consistently use your software. But that still doesn't mean they'll never switch to a competitor.
So, your main goals here are to increase retention rates, decrease customer churn, and turn them into ambassadors for your company.
7. Renewal
Whether your customers renew monthly or annually, it's important to help them overcome any objections they have to renewing their subscription with you.
At this phase, your customers are no longer thinking about the benefits you can provide. Instead, they're evaluating the things you DID provide over the last month/year/etc.
Furthermore, this is a common time for customers to review their budgets and look for ways to cut costs. So, it's essential to demonstrate your value so they don't turn elsewhere.
You can do this by continuing to provide top-notch customer service, implementing new updates to make their job easier, and being responsive to any issues they experience.
You may also want to consider:
Developing a loyalty program that offers discounts to long-term customers
Offering a discounted rate to extend their current subscription
Create content (via blog or email) that helps negate their renewal objections
Sending satisfaction surveys and asking how you can improve
8. Referral
Word of mouth marketing is one of the strongest forms there is. Plus, referred customers stay longer and oftentimes end up turning into high-value lifetime assets for your business.
Furthermore, 74% of consumers consider referrals and word of mouth marketing a major influencer in their buying decision. So, turning everyday customers into brand loyalists and ambassadors can work wonders on your bottom line.
The good news is… people love sharing their positive experiences with others. So, offering an exceptional product and service are essential in creating a community around your business. But you may also want to consider:
Developing a high-value referral program
Asking for an online review or testimonial from long-term customers
Implementing an affiliate program that gives back to your customers
Creating case studies around successful partnerships
Sending customer satisfaction surveys
Final Words on the SaaS Customer Lifecycle
Saas software and subscription-based revenue models rely on your ability to move customers from one phase of the funnel to the next. To do that, you need the right content delivered at the right time for every customer.
Whether you're optimizing existing content or creating something brand new, it's important to nurture customers at every phase of the SaaS lifecycle (which looks slightly different than the funnel you're used to seeing).
What types of content are you planning on creating (or optimizing) for your customers? Drop a comment and let us know!